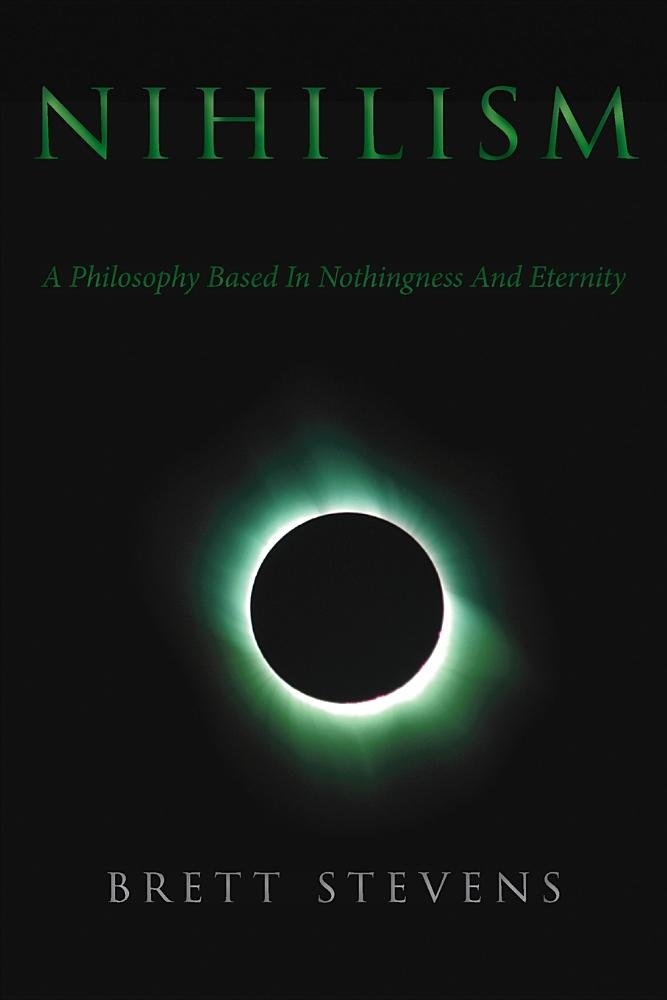 The writer behind this site, Brett Stevens, has released a book entitled Nihilism: A Philosophy Based In Nothingness And Eternity which contains writings about nihilism. It is available for purchase through Amazon. The publisher, Manticore Press, issued the following description:
Most people see the world in binary categories. They believe that there is either an inherent moral good that we must all obey, or there are no rules and life is pointless anarchy. Nihilism argues for a middle path: we lack inherent order, but are defined by our choices, which means that we must start making smarter choices by understanding the reality in which we live more than the human social reality which we have used to replace it in our minds.

A work of philosophy in the continental tradition, Nihilism examines the human relationship with philosophical doubt through a series of essays designed to stimulate the ancient knowledge within us of what is right and what is real. Searching for a level of thought underneath the brain-destroying methods of politics and economics, the philosophy of nihilism approaches thought at its most basic level and highest degree of abstraction. It escapes the bias of human perspective and instructs our ability to perceive itself, unleashing a new level of critical thinking that side-steps the mental ghetto of modernity and the attendant problems of civilization decline and personal lassitude.

While many rail against nihilism as the death of culture and religion, the philosophy itself encourages a consequentialist, reality-based outlook that forms the basis for moral choice. Unlike the control-oriented systems of thought that form the basis of contemporary society, nihilism reverts the crux of moral thinking to the relationship between the individual and the effects of that individual's actions in reality. From this, a new range of choice expands, including the decision to affirm religious and moral truth as superior methods of Darwinistic adaptation to the question of human survival, which necessarily includes civilization.

Inspired by transcendentalist thinkers and the ancient traditions of both the West and the Far East, the philosophy of nihilism negates the false intermediate steps imposed on us by degenerated values systems. In the footsteps of philosopher Friedrich W. Nietzsche, who called for a "re-evaluation of all values," nihilism subverts linguistic and social categorical thinking in order to achieve self-discipline of the mind. As part of this pursuit, Nihilism investigates thought from writers as diverse as William S. Burroughs, Aldous Huxley, Arthur Schopenhauer and Immanuel Kant. For those who seek the truth beyond the socially-convenient explanations that humans tell one another, nihilism is a philosophy both for a new age and for all time.
This anti-enlightenment treatment of philosophy rejects the idea of universalism as an artifact of the ego, and points toward an extreme, human-feelings-denying realism which sees adaptation in the Darwinian sense as its ultimate goal. This is a blood and guts, war and pain, total death and full power interpretation of active nihilism which nonetheless exposes where and how values and even spirituality can exist.
As other writeups have mentioned, this book will not please the weak of heart, morality, aesthetics or mind. Deny the false, reject the herd, look within and the possibility of understanding reality emerges, red in tooth and claw.